Welcome to the new FlexRadio Community! Please review the new
Community Rules
and other important new Community information on the
Message Board
.
Tutorial : Setting up Ham Radio Deluxe with SmartSDR
As my radio activity is 99,9% digital I and there are some questions on how towork with digital modes and programs I will create some tutorials here and I willstart with Ham Radio deluxe, for which I am also a beta tester.

There have been other tutorials both from FlexRadio and on this forum on digital
modes. My tutorials refer to the newest versions at this date September 2015.

I run all programs on Windows 7 Home Premium both 32 and 64 bit.

Setup for Windows 10 should be the same as for Windows 7, although there have been
reports about problems with virtual ports. Be careful to totally remove SmartSDR
from your PC before you install Windows 10, then reinstall, having saved your
profiles beforehand.

Setup of digital mode programs often opens server ports. You have to allow them
on your system, so have a look at both your firewall and antivirus programs if
there is no connection. The OS can also create a problem concerning user
permissions

Please tell me about improvements to the tutorials and issues not reported here.


A. Ham Radio Deluxe (HRD)
1. Download HRD:
http://ham-radio-deluxe.com/downloads.html
Installing the package will get you a lot of programs.
You will NOT need HRD Rig Control, as SSDR is doing the job for you.
The other HRD programs like Digital Master 780, HR Logbook, Rotator control,
Satellite tracking will connect to HRD server port 7809 and connect to SSDR
via external programs: DDUtil or MiniDeluxe.
2. Download DDUtil V3:
http://k5fr.com/DDUtilV3wiki/index.php?title=Download
or
    download MiniDeluxe:
https://github.com/krisp/MiniDeluxe/wiki
    DDUtil will give you a HRD server port  and a whole lot of options to control amps,
    antennas and so on, whereas MiniDeluxe is a small program which just gives you
    a HRD server port.
Both programs replace HRD Rig Control, which is unnecessary    and clogs up your CPU.
3. In SmartSDR CAT notice the port which was created at installing it and to which
    3rd party programs will connect, in my case COM6:    

4. Create a virtual PTT port in the Serial ports tab clicking "Add a port", then
    "PTT" and you should get a COM port pair (COM7-17) in this case:    
     Notice that I have also created a dedicated CAT port pair (COM8-18) which you
     need only if you want to connect other programs which can't use a HRD server.    
The COM port numbers can vary on your pc! Be careful that the newly created     COM ports are not used by other, already existing, devices!
You can create a
     little batch file, which I call "View Devices". Just copy the lines into your editor
     and save the batch file as "view devices.bat"
           set devmgr_show_nonpresent_devices=1
           set devmgr_show_details=1
           start DEVMGMT.MSC
     Now you can see all your COM ports, even the hidden ones, if so clicked.
     This is my list, yours will show different ports:     
     Sometimes two ports with the same number can crash Windows. In that case
     you have to restart in protected mode and change the numbers or deinstall
     the offending driver.
5. Setup for DDUtil: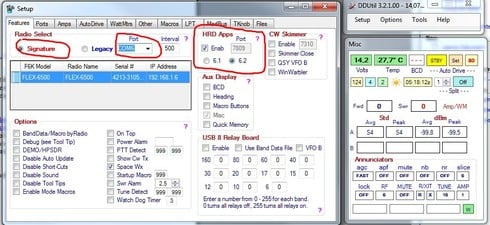 You see that Signature radio with COM port 6 is selected, HRD Apps is enabled
   with port 7809 and version 6.2 is ticked.
The COM port number can vary on your system   and relates only to my setup description!
or
6. Setup for MiniDeluxe:    
     Be careful to tick SmartSDR.
The COM port number can vary on your system     and relates only to my setup description!
7. Setup for Digital Master 780 (DM780):
   a. CAT setup is via HRD server port 7809:  
    b. PTT setup is a port number, in this case 7:  

  c. Soundcard setup:  
d. Logbook setup:  
Your startup screen should show this now:
8. Special case: The new RTTY mode and DM-780
     a. Set Reverse:    
     b. Click "Center Frequency", then place decoder into RTTY band:    
     Notice that "C" for Center stays at the CW setting. That doesn't matter
     as transmitting will now be on spot and not on a split frequency.
9. Setup for HRD Logbook:
This is quite straightforward, as HRD Log connects to the same HRD server port 7809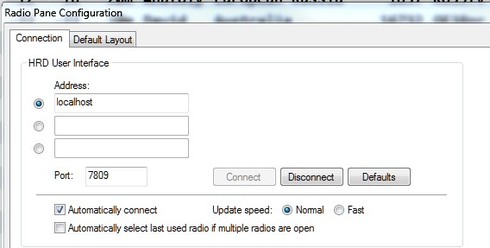 Update speed should be set at "Normal", as "Fast" tends to create problems with thelogbook.


All other HRD programs also connect to HRD server port 7809, which can equally
be used for WSJT-X and other programs.
Comments
Leave a Comment
Categories
6.3K

Software

7.9K

Radios and Accessories

456

Genius Products

137

Shack Infrastructure

1.4K

Operating Activities