Welcome to the new FlexRadio Community! Please review the new
Community Rules
and other important new Community information on the
Message Board
.
Footswitch schematic for SmartSDR for MAC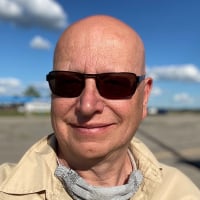 Mike-VA3MW
Administrator, FlexRadio Employee, Community Manager, Super Elmer, Moderator
admin
There are many ways to toggle RTS (a level on an RS232 port) so that a foot switch can be made to function on SmartSDR for MAC.
You can use a full FTDI USB/RS232 cable or there these boards available online from eBay or Amazon and many other places like robot shops.
I am using the Gikfun FT232RL 3.3V 5.5V FTDI USB to TTL Serial Adapter Module for Arduino Mini Port and I bought 2 of them for $12 Canadian. I then added some heat shrink and with a printed heat shrink label so I remember what it actually does later in time. :)
The creative types may want to do this and hide it nicely in the footswitch. I might do that with my next version. As well, I am using an inexpensive foot switch I bought off Amazon. Installing this in a footswitch would make a cool-looking USB footswitch.
I have added a 10K pull-up resistor to ensure the level stays high and not floating, which is a good practice and I also added a 0.1uF cap to help with debounce issues.
You could also do this with a hand switch if you wish.
73
Tagged:
Comments
Categories
6.2K

Software

7.8K

Radios and Accessories

411

Genius Products

119

Shack Infrastructure

1.3K

Operating Activities