Welcome to the new FlexRadio Community! Please review the new
Community Rules
and other important new Community information on the
Message Board
.
SmartSDR for Mac PTT Issue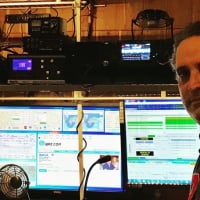 Hello folks. Tried looking for previous posts but didn't find any. I just installed, configured and played with the SmartSDR for Mac, which I find amazingly great and ease to use. This will give my Macbook Pro a whole new meaning for my radio purposes until the day when all the programs I use are Mac Os available and I can throw away my window PC.
But on to the matter at hand, sometimes when I'm using the SmartSDR for Mac if the received signal is too strong or there is a lot of noise on the frequency the PTT kicks in and the radio is put on transmit, for a second or two, and does it again and again and again.
I use Macbook Pro 2013, Catalina 10.15.7, latest SmartSDR for Mac and Klip computer headset.
I think I have everything configured correctly, therefore I don't know what can be causing the issue. Have any of you experienced this?
Thanks and 73,
Santiago
HI8O (former HI8SMX)
Comments
Categories
5.9K

Software

7.5K

Radios and Accessories

303

Genius Products

75

Shack Infrastructure

1K

Operating Activities