Welcome to the new FlexRadio Community! Please review the new
Community Rules
and other important new Community information on the
Message Board
.
Why Feedline Matters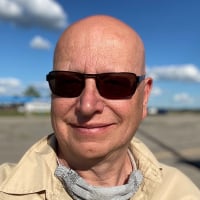 Mike-VA3MW
Administrator, FlexRadio Employee, Community Manager, Super Elmer, Moderator
admin
Just a bit of Elmering
My 80M V was one of the first antennas I installed here about 15 years ago.  I had a run of RG8X going to it and for the most part, it was pretty good.
Like most antennas, they slowly get worse and you don't hear the difference or see any performance lose.
I could tell from some local nets that my 80M TX signal wasn't what it used to be.  The same could be true on some contests.
This morning I decided to change out the 30M of RG8X with about the same length of RG213 that was new and had been sitting around ready to go for a while.
2 Key take aways.  One, my bandwidth is narrower.  That is a good thing as it tells me that the Q of the antenna is higher.  Never trust anyone that says their SWR is flat across the band- that is the sign of big RF losses in either ground or maybe even bad feedline.  Antennas are a tuned circuit and therefore have a resonance point.  
Even better, I gained about 2-3S units of hearing.  Normally, my hearing is pretty great, but I had some birdies and broadband noise leaking in from switching power supplies and a few other things.
Those are all gone now!  Amazing.  
Here is the before and after SWR plots at the end of the feedline taken using my Flex radio and K9DUR's SWR Plotter software.  You are using it, correct?  If you do, don't forget to donate to Ray.  
http://k9dur.info/smartsdr_utilities.php
Notice the lowest SWR is better and the 2.0:1 points are not as wide.  
If you are sitting on an HF antenna and you can't remember the last time you actually physically inspected it looking for broken wires and corrosion, you might want to spend some time on it.
For me, it made a big difference.
73, Mike va3mw
Comments
Leave a Comment
Categories
6.8K

Software

8.3K

Radios and Accessories

626

Genius Products

198

Shack Infrastructure

1.8K

Operating Activities