Welcome to the new FlexRadio Community! Please review the new
Community Rules
and other important new Community information on the
Message Board
.
Need Help with Verizon Actiontec MI424WR Router
I have Version 2.0.17 installed on my FLEX-6500 and have the SmartSDR iOS app installed on my iPhone 7 with iOS v10.3.3 installed. What I have is one-way connectivity from my iPhone to the radio. I can change the frequency, control all of the settings, change the power, activate ATU, etc. including transmit PTT with SSB modulation and 100 watts power output. But from the radio to the iPhone there is nothing. No received audio (yes REMOTE is active for the PC), no meter readings, no panadapter, no waterfall, etc. Here is the router's port forwarding: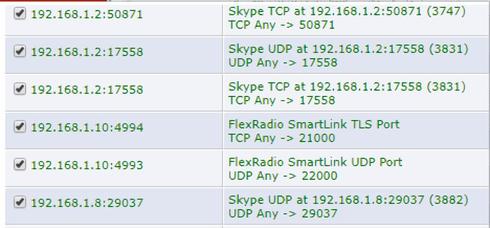 Dudley had noticed just prior to quitting time on Friday that the TCP port forwarding was marked TLS. He was not sure if this was an issue or not. It is shown on the above picture.
I am NOT a router guru so I was wondering if somebody could TeamView into my PC and see if you could get the TLS port forwarding to be TCP port forwarding to see if that resolves the one-way issue?
I also tried access over the Verizon Cellular LTE Network and nothing worked. I've read that remote control over cellular may not be possible because carriers apparently do not allow port forwarding. I don't know...
So any takers? Thanks in advance! 73, Dave K4EET
Comments
Leave a Comment
Categories
6.3K

Software

7.9K

Radios and Accessories

436

Genius Products

126

Shack Infrastructure

1.3K

Operating Activities