Welcome to the new FlexRadio Community! Please review the new
Community Rules
and other important new Community information on the
Message Board
.
Using the FreeDV application on a PC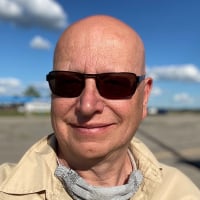 Mike-VA3MW
Administrator, FlexRadio Employee, Community Manager, Super Elmer, Moderator
admin
These are some very very high level screen shots of my setup.
After downloading and installing FreeDV, you need to configure 3 things.
Audio
PTT
CAT - not super required.
I got 2 done:
Audio Input to computer
I am going to show the advanced window for Audio and only the radio side is highlighted.
I assigned DAX Audio RX 1 to the slice I was using. This is the INPUT to the FreeDV program.
On the bottom half, pick your speaker or maybe a USB headset. This is the part YOU listen to. (I use a Mixer, so it is VoiceMeeter Aux Input). Yours will be different.
Audio Output back to the Radio
The top part of this box is to highlight your PC Microphone.
PTT Config
I didn't use Hamlib yet, and went the easy way.
Configure a PTT Port in SmartSDR CAT.
In this example, mine is COM11 on Slice A with RTS highlighted.
On the Radio, you want to be in DIGU Mode
Just like in DIGU modes such as WSJTx
TX Stream DAX on in SmartSDR DAX
TX DAX on in SmartSDR
FreeDV setup is exactly the same as setting up WSJTx, FLDigi, etc.
For CAT control, you will need to get Hamlib running (I haven't done that yet).
This should get you going enough to hear some QSO's.
(I have yet to make a QSO, but maybe in a day or so)
73, Mike va3mw
Comments
Leave a Comment
Categories
6.9K

Software

8.4K

Radios and Accessories

658

Genius Products

213

Shack Infrastructure

1.9K

Operating Activities