Welcome to the new FlexRadio Community! Please review the new
Community Rules
and other important new Community information on the
Message Board
.
Dayton 2023 Banquet Tickets - now available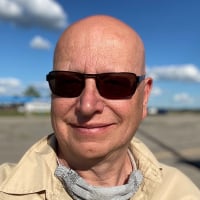 Mike-VA3MW
Administrator, FlexRadio Employee, Community Manager, Super Elmer, Moderator
admin
Dayton Hamvention
Hamvention 2023
FlexRadio will be at Hamvention 2023 located in Xenia (Dayton), Ohio from May 19, 20 and 21st, 2023. It is a great opportunity to meet up with many of the FlexRadio staff and enthusiasts!
You can also join us for either (or both) of our Dinners on the 18th and 19th. 
Order your tickets online here.
Our guest speaker for Thursday, May 18th is Dr. Nathaniel Frissell Ph.D., W2NAF.  
Nathaniel is an Assistant Professor of Physics and Engineering at The University of Scranton. Nathaniel's passion for radio and radio science began in middle school when he was introduced to the amateur radio hobby through scouting.
In his presentation, he will describe the HamSCI Personal Space Weather Station Project and show how amateur radio observation networks such as the Reverse Beacon Network (RBN), Weak Signal Propagation Reporter Network (WSPRNet), and PSKReporter/FT8 can be used to study ionospheric effects, including those caused by the upcoming October 14, 2023, Annular and April 8, 2024, Total Solar Eclipses.
Our guest speaker for Friday, May 19th is Bob Brehm, AK6R.
Bob Brehm, AK6R, is the Chief Engineer at Palomar Engineers. He was first licensed in 1963 as WN6QFA and WB6QFA. Bob is active in CW, RTTY, and SSB contests and now also restores old Tube gear that he routinely operates CW, AM, and SSB on 80 and 40M. Bob also uses the entire FlexRadio ecosystem including a 6600, Power Genius XL, and a Tuner Genius XL with his huge antenna farm.
Bob will educate us on the issues today's hams have with RFI sources and how they can make it difficult to hear other stations. He will also talk about what solutions are available and where to use them. After all, the quieter you are, the more you can hear!
p.s. when you order 1 ticket, you actually will get 3 tickets, all of which require your name on them.
The actual Banquet dinner ticket which you pay for
The ticket for your T-Shirt - don't forget the size (no cost)
The ticket for your dinner (no cost)
Don't be surprised during the checkout process. If you have any issues, give me a call at 512-535-4713 x222 and I will take your order over the phone. If I don't answer, please leave a message so I can call you back. I might be out working some rare DX at that time. :)
Categories
6.7K

Software

8.2K

Radios and Accessories

576

Genius Products

174

Shack Infrastructure

1.7K

Operating Activities