Welcome to the new FlexRadio Community! Please review the new
Community Rules
and other important new Community information on the
Message Board
.
Transverter receive artifacts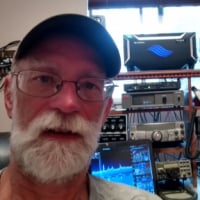 KD0RC
Member, Super Elmer
Moderator
I have a Flex 6400 and a UT5JCW 2-meter transverter. The transverter works great, especially for such an inexpensive piece of equipment.
I do notice that across the 2-meter band, there is a 10 dB bump centered near145.600. I get this regardless of antenna (or even no antenna) and wonder if this is an artifact of the transverter (which I suspect), or if an expensive transverter like the Q5 would exhibit the same behavior. I am sure that it is not the 6400, as 28 - 32 MHz is quite flat with no antenna connected.
The picture below was captured with an RF Gain setting of 16 dB. At -8 dB, the display goes flat, but weaker signals disappear. At 0 dB, I get a 2 - 3 dB bump, and at 8 dB I get a 5 - 7 dB bump (just eyeballing the display, not a precise measurement). 16 dB gives me the sweet spot of an 8 - 10 dB drop when setting the rig to no RX antenna compared to the XVTR.
I also get receiver dropouts when strong signals stop transmitting (see circled items, above). I have to believe that this is an artifact within the transverter but want to know for sure. I get no such dropouts on any other band, regardless of signal strength.
If anyone can confirm what is causing these artifacts, I would appreciate it.
Tagged:
Answers
Leave a Comment
Categories
6.6K

Software

8.1K

Radios and Accessories

552

Genius Products

160

Shack Infrastructure

1.6K

Operating Activities