Welcome to the new FlexRadio Community! Please review the new
Community Rules
and other important new Community information on the
Message Board
.
Flex radio controller on the cheap!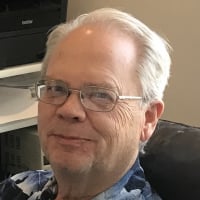 Many of you may have seen my CTR2-Mini and Mini+ posts and probably thought "that's nice but I don't need all those extras with my Flex". And you're probably right. If you don't have any other radios in your shack there is no need for a device that provides serial CAT control or has a keyer and sidetone built in. You just want a physical knob for your radio!
With that in mind I boiled the Mini's design down to the bare essentials that almost anyone can build in an hour or two. And if you want a physical knob for each slice, just build more :)
Here's the schematic. It only requires a Wio Terminal, encoder and three 10k resistors. If you want the function keypad (trust me, you will), add six resistors, six pushbuttons, and a .01uF cap.
Here's the part list with links:
Rotary Encoder w/switch: (smooth): PEC11R-4020K-S0024 or (detent) PEC11R-4220K-S0024 ($1.88) - I like the smooth encoder personally
Three 10k resistors (.10 each)
Knob ($2.39)
To add the keypad:
Colored pushbuttons (from Amazon) - you can use any pushbuttons you want
4.3K resistor ($.14)
7.5K resistor ($.10)
12K resistor ($.10)
20K resistor ($.10)
37.4K resistor ($.10)
.01uF cap ($.10)
You can build this in almost any enclosure. For the Mini+ I chose the PacTec KEU-5 sloped enclosure. It looks nice and is easy to modify. Just cut out a slot for the GPIO bus and drill two holes to attach the Mini and holes for the encoder and pushbuttons. Use point to point wiring to wire it up and DuPont male jumpers to connect to the Wio GPIO bus. I'm not offering this as a kit or assembled unit.
You'll need to power the Wio Terminal from its USB-C connector. Just plug it into your PC.
Finally, download the Mini's software from my blog and copy it to your Wio. You now have a physical knob for your Flex... and it's on steroids. Everything works but serial CAT, keyer, and sidetone. You can find out more than you ever thought you'd want to know about the Mini on my blog.
A couple of more things...
I just updated the Mini's firmware to v1.09.01. This update gives you the ability to program each button on the function key pad with two functions (a normal and a shift function). You can assign Flex specific controls to each button for instant access along with the other Mini functions.
I've also added a new External Tuner mode to the Mini. This mode is handy if you use an external tuner on your Flex. When you enter this mode the Mini automatically sets your radio to AM mode and reduces the Tx power down to 15 watts. You can adjust power with the encoder between 5 and 15 watts. Just press the [C] button or the PTT button on the keypad to key your radio, then start your tuner. When you're done, exit External Tuner mode and the Mini resets the radio's mode and power out back to the original settings.
Enjoy!
73, Lynn, KU7Q
Comments
Leave a Comment
Categories
6.5K

Software

8K

Radios and Accessories

528

Genius Products

152

Shack Infrastructure

1.5K

Operating Activities