Welcome to the new FlexRadio Community! Please review the new
Community Rules
and other important new Community information on the
Message Board
.
VHF Contest this weekend -- Share your Flex setup.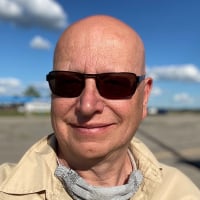 Mike-VA3MW
Administrator, FlexRadio Employee, Community Manager, Super Elmer, Moderator
admin
I am an HF contester. 
  However, the ARRL VHF Sweepstakes is this weekend, so I wanted to share what I am thinking of.
First, after reviewing all the rules, I see I can use just about any mode, (SSB, CW, Digital, FM, etc) which is cool.  
I also learned from the last VHF contest, that they relay on skeds .. alot.  But, if I can see them, I can work them and maybe I can see some skeds in progress.  
I have a 6600 with a 2M Transverter from Q5 Signals.  I also have another all band radio on 432Mhz.  
Let's talk about 6M and 2M:
With the 4 slice 6600, I am setup on the Maestro with 2 slices.  I'm going to use these 2 slices for 6M CW and SSB and 2M CW and SSB.  The waterfall and panadapter give me an amazing view of what is going on at a glance without having to keep spinning the dial.   This is a real plus.
Next, thanks to MultiFlex (part of V3) I have another 2 slices open, again 1 on 6M and another on 2M for Digital modes so I can be on FT8 and/or MSK144.  And, with the panadapter/waterfall that gives to about a 4hz/pixel resolution (I think that's the number -- it is pretty small).
With 1 radio and 1 transverter and with 1 2M antenna and 1 6M antenna I have done with would take 4 radios and 4 antennas.  As well, if I had amplifiers I would have had to double up on those too.  
I'm will be logging with N1MM which sees this as 2 unique radios (like an SO2R setup).  
Next, toss in some WSJTx with Slicemaster, I'll start to see spots on the waterfall too.  Even better situational awareness.  
Here is what the 2 slices on the desktop look like for the Digital work.
Then, on the Maestro, we can do this with 6M on top and 2M on the bottom. 
I look forward to hearing what others might be doing?  
Mike va3mw (FN03) -- for some of you, beam north!
Comments
Leave a Comment
Categories
6.6K

Software

8.1K

Radios and Accessories

550

Genius Products

159

Shack Infrastructure

1.6K

Operating Activities