Welcome to the new FlexRadio Community! Please review the new
Community Rules
and other important new Community information on the
Message Board
.
Ham Shack Noise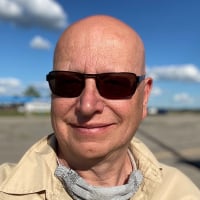 Mike-VA3MW
Administrator, FlexRadio Employee, Community Manager, Super Elmer, Moderator
admin
HF Noise
We all think it is the other guy, neighbour, etc.  
Odds are that most of the noise you hear is right within your property line.  Your Flex radio makes a great tool for watching noise on the waterfall.  Why not make use of it.
Case in point.  These 2 pictures were sent to me by a close friend of fine.  His shack is in the basement of his house.  
His antennas are 200-400 ft away since he has a large piece of property.  He has 2 runs of 7/8" hardline that is buried for about 150ft to his switch box at the base of a tower.
He went looking for these birdies on 160M:
Turns out it was a Diawa Power Supply and a Genius Battery charger.  These were located 200' from the antennas.  Imagine if they were actually near the antenna system.  
Cheap switching power supplies, like all charging devices have, are a problem.  Those designed for HF operation, like the Powerwerx are pretty good.  Personally, I try not to use switching power supplies when possible.
Now, look!  Wow, what a difference.
I have mentioned in the past that my largest 80M noise at my HF station was the power supply on a security system.  It was a 5-minute fix.
Short story.  You may not have to put up with as much noise as you think.  If it is on your property, you can fix it.   
Do not assume it isn't your problem and you have to live with it.  
The bands aren't really that dead.  Your phone charger is just covering it up.  Did you notice 10M actually opened 2 weeks ago, or did you miss it?
Mike va3mw
Comments
Leave a Comment
Categories
6.8K

Software

8.3K

Radios and Accessories

625

Genius Products

198

Shack Infrastructure

1.8K

Operating Activities