Welcome to the new FlexRadio Community! Please review the new
Community Rules
and other important new Community information on the
Message Board
.
Remote IPad Operation of 6000 series using Parallel Access App Updated April 24, 2015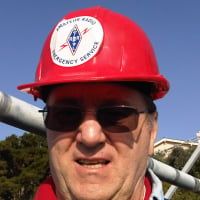 KY6LA_Howard
La Jolla, CA. Paris and Sablet France
Member
✭✭✭
It's almost a year since I last update my remoting via iPad presentation
https://community.flexradio.com/flexradio/topics/remote_ipad_operation_of_6000_series_using_parallel...
and more than 2 years since I first started talking about how I did it..
I have now operated remotely my Flex's from 22 different countries and recently from 11,500' in WA3IHV's Centurion on the way back from Visalia DX Convention.  This has worked over 3G, 4G Cellular and WIFI but you need at least 2Mb/s data rates for a decent visual display.  Latency is 20ms local, 30-100ms National, 100-350ms International. 
I have operated from exotic places like Thailand, Vietnam and dive boats in Bali and Nevis as well as most Western European Countries and of course from my daughter's house in LA when we are babysitting and sitting in shoes stores in Paris waiting for the XYL to try on EVERY pair of shoes. Remoting gives you the freedom to be anywhere in the world and still enjoy ham radio without schelpping coax, radios, amps, antennas,etc
In the interim, SmartSDR 1.43 now has a really easy to configure Remote Button that makes configuring a remote operation very easy. 
The method I am posting has worked with iPhones and iPads.  I suspect that it will also work with Android devices as well... As you long as your device supports Parallels Access, then you can remote into your Flex 6000 Series.  It will also work with PowerSDR and the 3000, 5000 but they are much more difficult to set up.
Rather than posting all the screen shots on this community - which is rather time consuming I have prepared a detailed PDF that you can easily download from my Public Dropbox
Remote IPad Operation of 6000 series using Parallel Access App
https://db.tt/0ERrHbej
In case you are wondering how anyone can afford the cell phone International Data Roaming Rates I have also written a presentation called
HOW TO SAVE A LOT OF MONEY ON INTERNATIONAL DATA ROAMING
https://db.tt/vUXgteRU
Bottom Line.. Use local Data SIMS... Much cheaper than USA Data Rates.
Enjoy the Freedom that Roaming Brings to You.
Comments
Leave a Comment
Categories
6.5K

Software

8K

Radios and Accessories

525

Genius Products

152

Shack Infrastructure

1.5K

Operating Activities