Welcome to the new FlexRadio Community! Please review the new
Community Rules
and other important new Community information on the
Message Board
.
Panadapter/Spectrum Display lockup
Starting to get my app back to working with V3.0.27. But, I've run into an odd situation. I am running a 6600M. With the front panel working, if I connect my app, my program works fine(more or less). BUT, it causes the M model display Spectrum/Panadapter to freeze. Audio, controls etc. all work fine, Including the Waterfall !
Just the spectrum freezes up. This same code worked fine in versions prior to V2.x of the API and SSDR. Of course, at that time, only one app could be a GUI app. When I tried it with v2.49 same thing happened.
  I'm thinking because I have not specified which Panadapter I am subscribing to, that the API is getting confused. This happens no matter which band or bands, I'm on. I can have the radio on 40 meters and my app will automatically grab 20 meters. But, the display on the radio stays on 40 meters while the display on my app goes to 20 meters correctly.  My Waterfall code has always not worked correctly. (when it did, it was slow) So, I haven't even tried to get that far yet.
Any suggestions on how, using C# I should go about requesting a Panadapter that is not in use?
James
WD5GWY
Not a real developer................................
A couple of photos to show what's happening: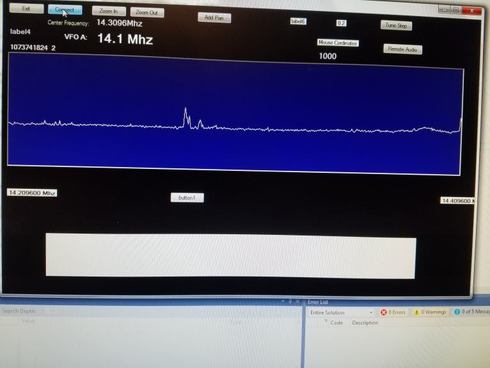 Answers
Leave a Comment
Categories
5.8K

Software

7.5K

Radios and Accessories

278

Genius Products

71

Shack Infrastructure

987

Operating Activities