Welcome to the new FlexRadio Community! Please review the new
Community Rules
and other important new Community information on the
Message Board
.
remote operating in the Great White North - keeping the radio warm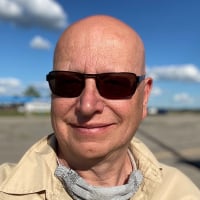 Mike-VA3MW
FlexRadio Employee, Community Manager
admin
As most of you know, my HF station is 100% remote up here in the Great White North.  The secure radio room can easily see some pretty cold temperatures of -15C or greater.
A while back, I talked to Steve Hicks N5AC about cold weather operating and he brought up to speed on "cold weather hardening" for electronics and things like the FPGA, etc.  As Flex radios are not cold weather hardened, that can be a concern.  Steve's comments to me was to just leave it on as the FPGA generates about 5-7 watts of heat on its own.  That is what I did  all winter and it worked just fine.  I had some books on top of the 6300 to 
Also, if you know me, I'm one to try it out and see what happens.  I was long taught by Hams and Managers ... try something.... failing is a learning experience.
For 2 years, I had a 6300 see some pretty cold temperatures and it worked just fine.  
The 6300 was replaced with a 6600 for this winter.  In fact, the lake froze a year earlier than normal and with the ground freezing it moved the resonance of my 160M inverted L up enough to be a problem on the ARRL 160 cw test.  
So far, I have seen surrounding air temps in the shack down to about 0C which is reported by my RemoteQTH server.  And, without the insulating cover on the radio FRSTACK was also reporting the same temperature in the radio.  This was getting me worried in case the radio had an issue.
I gave it some thought and went to Home Depot, picked up some 1" styrofoam and built a cover that would cover the top, sides and front and hot glued it together.  Nothing fancy.  (sorry no pictures -- just build a styrofoam house that will go over a radio
)
I cut out the vent holes on the side and didn't cover the back at all.  After all, the radio does generate some heat and I wanted to save some.  I also wanted the fan to move air should it have to come on.
The results is pretty good.  Static air temp is about 12-15C, and I can drive that up to 30C if running 100 watt of RTTY, FT8 or MSK144.  All within spec.
I'll report back in January when it gets really cold.  I am sure that Marc VE2OLM has some similar stories with his EME site that he has had for years.
Mike va3mw
Leave a Comment
Categories
5.2K

Software

6.9K

Radios and Accessories

122

Power Genius Products

26

Shack Infrastructure

595

Operating Activities