Welcome to the new FlexRadio Community! Please review the new
Community Rules
and other important new Community information on the
Message Board
.
Push to VOX version 1.0.0 is now available
Push-to-VOX will automatically enable and disable VOX control on your Flex 6000 series radio.  It can be controlled with your mouse or keyboard through its on screen interface or with a serial port connected footswitch.
Push-to-VOX does as its name implies.  Rather than simply acting like another MOX button, Push-to-VOX will enable VOX control when the footswitch is depressed and disable it when the footswitch is released.  Alternately, you can use a quick tap of your foot to enable or disable VOX.  The settings panel will let you tailor the behavior to your liking.  If VOX operation is not desired, but the quick tap feature is, select 'Push to MOX' instead of 'Push to VOX'.  Timers are available to latch the current mode after the footswitch has been depressed for longer than the preset time period.  A quick tap of the footswitch will release the latch.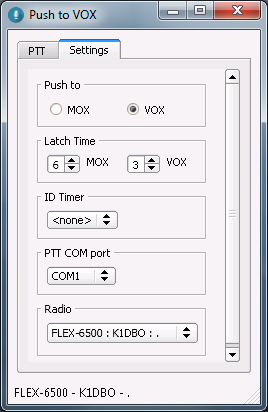 Also included is an ID timer that obnoxiously reminds you it needs resetting every 10 minutes.  It can be enabled from the settings page.
Best of all, it wont cost you anything.  Download your copy here: 
https://github.com/K1DBO/push-to-vox/releases
--
Note that the footswitch wiring is the same as what's used with SmartSDR CAT to map an "Existing" COM port for PTT.  It's a very simple cable.  Wire it so your PTT switch will short pins 7 and 8.  This will raise CTS on the COM port and activate the transmitter.
Comments
Leave a Comment
Categories
5.8K

Software

7.5K

Radios and Accessories

278

Genius Products

71

Shack Infrastructure

987

Operating Activities