Welcome to the new FlexRadio Community! Please review the new
Community Rules
and other important new Community information on the
Message Board
.
iPHONE REMOTE OPERATIONS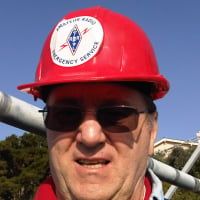 KY6LA_Howard
La Jolla, CA. Paris and Sablet France
Member
✭✭✭
I was at our Friday Ham Radio Lunch Bunch group today when somebody asked me to demo to a newbie my Flex 6700 operated remotely from my iPad.
Unfortunately I had left my iPad at home....
So I wondered if I could use an iPhone..  
I had previously discounted the idea because I had had an iPhone 4S with a very small screen which was too small to be usable.  
But I now have an iPhone 6+ which much more screen area.--- so why not give it a try...
I logged into Parallels Access APP on my iPhone, connected to my 6700 and Voila...
Audio came out of the phone and a very clear real time spectrum display appeared on the screen.  I enable the VOX and was able to hand the phone to the newbie to work a QSO.
I was running on the AT&T 4G LTE Network in San Diego.. No significant latency.  No significant dropouts or issues..
The set up is exactly the same as per my iPad setup
https://community.flexradio.com/flexradio/topics/remote_ipad_operation_of_6000_series_using_parallel_access_app_update_june_17_2014
Of course, I could not leave well enough alone... So we went out to my vehicle, connected the phone through the vehicles bluetooth and continued the QSO...albeit not as clear or as easy to use as the phone itself ...some audio feedback issues.. that I need to work on...
The good news is that I was able to continue to work 20M SSB on the drive home  - hands free.. I usually can hold a frequency especially when not dxing...
So for you guys who are thinking that you might not need V2.0 WAN...
Guess what.. your phone gives you a mobile radio in your hand or your car....
The cool thing is that if you are waiting for the XYL in a Shoe Store (1/2 my life) you can actually be on the phone doing something important...like working DX
Leave a Comment
Categories
5.2K

Software

6.9K

Radios and Accessories

122

Power Genius Products

26

Shack Infrastructure

589

Operating Activities