Welcome to the new FlexRadio Community! Please review the new
Community Rules
and other important new Community information on the
Message Board
.
Creative T10 Speaker Standby Issue Solved!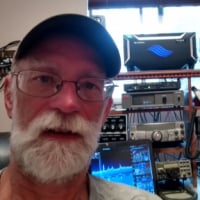 KD0RC
Member, Super Elmer
Moderator
I bought some Creative T10 speakers for my Flex 6400 a few years ago. I have been really happy with them - they sound good, have plenty of volume, are reasonably RF-proof and were pretty inexpensive. I power them from the main station 13.8 supply (no noisy wall-wart) and feed the audio through a 1:1 audio transformer (ground loop isolator). I also pass all the wires through a mix 31 snap on ferrite.
What I don't like about them is that there is a circuit that puts the audio amp into standby mode if it doesn't get enough audio volume for a while (this may only be for units meant for the UK). What a PITA!! If I mute the speakers to take a phone call or something, then un-mute to get back to operating, it takes several seconds for the audio to come back on. If the band is quiet, it might not come back on until I tune onto a loud signal, then I still have to wait.
I finally opened the case and discovered that the audio amp is an STA540 from STMicroelectronics. Looking up the specs, I discovered that keeping more that 3.5 volts on the standby control pin allows amplification and less than 1.5 volts puts it in standby mode.
I used my o'scope to watch the action as it went into and out of standby mode. They put input power supply voltage on the pin for normal operation, then when it doesn't get enough audio, the voltage slowly decays to a few hundred millivolts. I think they just use the audio to charge up a big capacitor to keep it out of standby.
To fix this unpleasantness, I hung a 10 K ohm resistor from the standby pin to VCC.
Now it stays on, even if I mute the rig for an extended period of time or have it on a squelched repeater freq. If enough time elapses, sometimes the LED extinguishes, just as if it was going into standby mode, but in fact the audio amplification stays alive. I made no effort to change this quirky behavior.
I hope this helps anyone else who has these otherwise great speakers.
Comments
Leave a Comment
Categories
6.9K

Software

8.4K

Radios and Accessories

661

Genius Products

213

Shack Infrastructure

1.9K

Operating Activities