Welcome to the new FlexRadio Community! Please review the new
Community Rules
and other important new Community information on the
Message Board
.
None Flex-Radio with PGXL TGXL AG2x8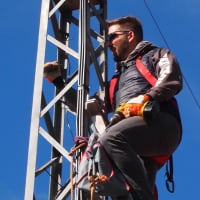 Dear community.
A (blind) friend of mine wants to use his Kenwood TS590SG with a PGXL, TGXL and AG. He cannot use a Flexradio. Kenwood delivers excellent support for blind hams.
He wonders how to connect the devices. They are all LAN based (apart the radio). I know that AG<=>TGXL communicate with each other (do they exchange all necessary data?)
Does one have to connect all devices to the serial ouptput of the radio in order to share serial data information for band-switching?
Can I do something like using TX (TS590SG serial) to RX (PGXL serial), TX (PGXL serial) to RX (TGXL serial) and come back from the TGXL TX to RX (TS590SG serial)? ...to have alle devices connected?
The PTT has to come from the TS590SG to the PGXL and TGXL.
Thanks for your help
Leave a Comment
Categories
6.9K

Software

8.4K

Radios and Accessories

658

Genius Products

213

Shack Infrastructure

1.9K

Operating Activities