Welcome to the new FlexRadio Community! Please review the new
Community Rules
and other important new Community information on the
Message Board
.
Pan Adapter bug related to Xvtr and WNB
I'm running SmartSDR v2.4.9 and just recently got a DEMI 2m transverter (28MHz IF) connected and working with my 6500. I have noticed that if I:
1. Set the zoom out so that the entire band is visible in the pan.
2. Enable, then disable the WBN dsp function.
3. What looks like a massive IMD signal appears at the top edge of the band.
The IMD signal is not real and seems only to be an artifact within the pan. It will disappear if I do anything that "disturbs" the pan-adapter, such as, zoom in/out on the horizontal axis, maximize the SSDR window, "Restore down" the window, or re-enable WNB. Shown below is an illustration of what I see.
This is the pan zoomed out to show the entire 2m band with WNB enabled: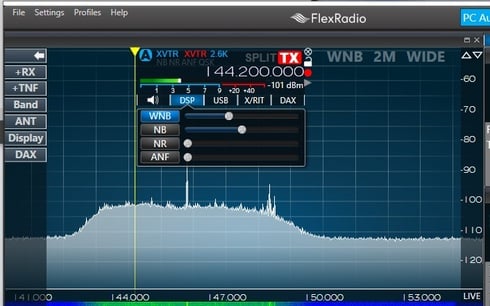 This is the pan after disabling WNB:
BTW, I'm using an OCI 2m band-pass filter to **** the local 100kW FM transmitter that is less than 1000' from my QTH. That filter is awesome and is the reason the 2m band-noise is so prominent in the pan adapter.
Comments
Leave a Comment
Categories
6.7K

Software

8.2K

Radios and Accessories

573

Genius Products

167

Shack Infrastructure

1.7K

Operating Activities