Welcome to the new FlexRadio Community! Please review the new
Community Rules
and other important new Community information on the
Message Board
.
WPX SSB raw scores DL4RCE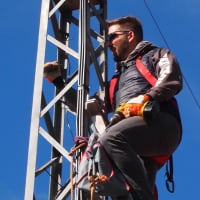 Hi all,
some days ago I got my raw scores from the WPX 2019 contest.
1. DL
1. EU
1. WORLD
40m monoband, High Power, Assisted, (T) class.
I did around 36h out of 48 which is max.
Days before the contest I reset my antenna to 25m between two trees (thanks neighbors) , feeding point about 23m up. 2x19,5m, 17m ladder line, symmetrical coupler (which I had to fix since it literally burned days before as well...).
I was operating my Flex 6600 which I have now for about one year with an OM Power 2000a+ amp.
Within the 36h I did not have a single glitch with the 6600 and Maestro, I used only one Panadapter.
It was an amazing experience and I was totally blown away on how well the Flexradio worked.
I am pretty sure that my (preliminary) placement is, to a big part, because I had a Flex that I loved to work with. Remembering times when my ears got tired after some hours, this was a different story. 
To all that think they need a perfectly working NB or TNF, basically I don ́t care that much because I would not have made one QSO more, or even if... who cares.
I am very picky when it comes to my hobby and I thought a lot about of what to buy but considering the overall performance and remote capability, there is no way around a Flex.
...and v3? I noticed some performance enhancements with the Maestro which I liked a lot. Sure it does not behave that differently but I am Ok with the changes. Is it worth it? Personally I think that this is the wrong question. You are buying a Flex which will be improved with software from time to time. There are SDR competitors that took several years to implement some minor features. I am investing in the future of SDR radio and I strongly believe that paying for a (major) software update is a good investment even if, at times, others get more out of it than I do.
Thanks Flexradio, looking forward to get the PGXL
Regards
Volker, DL4RCE
Leave a Comment
Categories
5.7K

Software

7.3K

Radios and Accessories

228

Genius Products

58

Shack Infrastructure

927

Operating Activities