Welcome to the new FlexRadio Community! Please review the new
Community Rules
and other important new Community information on the
Message Board
.
DAYTON/XENIA 2017 - Problems Solved - O.T. Humor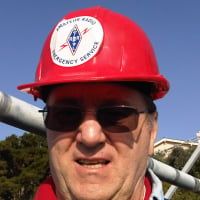 KY6LA_Howard
La Jolla, CA. Paris and Sablet France
Member
✭✭✭
My friend Ben N6MUF.. a fellow International Hamfest **** wrote the following:
Everyone was a bit upset by the news that the Dayton Hamvention was leaving their favorite "World City"  Dayton.
 Worries about....How is it going to be in Xenia.  It's only 80,000 sq ft vs 160,000 sq ft... No seminar rooms,  close to nothing...
Well....Your worries are over !!
The problem with Not Enough Exhibitor area is not a problem any more.
     1.  Flex Radio and Icom and Elad are all sharing one ( 1 ) booth. ( 9 ft. x 9 ft.) This will save time in making comparisons and all 3 companies will  only have to send 1/3 of their stand-people.
     2.  HRO and DX Engineering are doing the same.
     3.  Steppir and Buddy Pole are together.
      4.  Bob Heil and Radio-Sport and also buddying up.
     5.  Yaesu and Kenwood are no longer attending as they have nothing new and no customers.
     6.  Parking will be NO problem as now the parking lot ( former flea market in Dayton ) is freed up and the shuttle from 
Dayton to Xenia runs every 2 hours on the hour.  ( 1st bus at 10 am and last returning is 1500 )  Driving time is 1-1/2 hours
         and round trip is only $36.50.  A meal will be served on the bus for $16.95.if you a member of ARRL otherwise $24.95. 
     7.  Ajax Towing will be helping those stuck in the mud at the new flea market area
     8.  Good news for those who want food.  McDonalds in Cincinnati will make deliveries to Xenia if you place orders                  
 in advance with your prepaid HamVention ticket.  ( food will be waiting for you in Xenia for pick up )
      9.  No more Cow manure smells.  Xenia only does Hog and Chicken live stock shows.
     10.  Hotels should be booked no later than August 28, 2016 to assure you will get a room.  Please double or triple - up. 
          Xenia has no premium hotels such as Motel 6.  Linda Sues Spaghetti Diner only has 3 Tables so go to dinner before going to the show.
     11.  Conference rooms are not available so Seminars will be held out in the open.  Free Air Conditioning since it will be outdoors.. No Rain Checks given.    
     12.  Air Transportation to Xenia should be booked ASAP.  The Airport can only handle 8 flights a day.  1 incoming and 7 outgoing, crop duster flights should only be booked in emergency situations. ( remember...No bagage allowed on these flights.
      13.  Bring CASH as the Credit Card has not hit this part of the USA yet.
 OK,  get all ready for a good one in Xenia.  See u there!!
Leave a Comment
Categories
5.3K

Software

7K

Radios and Accessories

135

Power Genius Products

36

Shack Infrastructure

675

Operating Activities