Welcome to the new FlexRadio Community! Please review the new
Community Rules
and other important new Community information on the
Message Board
.
Flex-6300 Portable Fun - US Island WI-001L Operations Report
On a whim I added a Flex-6300 (I also have Flex-6700 #11 at my home location) to my assortment of radios.  One of the gents who wasn't getting a good SDR experience and I worked out a mutually beneficial deal as I was on the fence on buying a second 6x00 at Dayton, missing out on getting a 6300 for summer.
The 6300 has now made several weekender trips to Washington Island, Wisconsin (US/CDN Island program #WI-001L) paired with a StepIR CrankIR antenna and an old Toshiba laptop.
Many of you may recognize Washington Island as the home of the amazing station & radio collection of George W9EVT.  We have leased a small farmhouse for the season about three miles southwest of W9EVT's mega-station.
There are more pictures and accounting of the operations so far at http://k9zw.wordpress.com as the 6300 has been fantastic.
The radio/antenna combination has greatly exceeded my expectations with all the DX I can hear being reasonably easy to work barefoot.  W9EVT and I did some A/B comparison between his station and my portable setup, with the difference being mainly my transmit being a few S-Units down from his QRO setup as received at the DX station.  Makes sense given my 100w limitation. 
Here are a couple quick photos:
The farmhouse at Rocky Ridge Farm.  The CrankIR is a nice antenna for this use.
Here is the station as setup in warm weather outside:
This last weekend was too chilly to work outside (though I did work 28 DX countries in a few hours, including Palau and Reunion Island).  Notice all the signals I could hear from this RF quiet QTH:
Island access is by a half-hour ferry run.  It was rather choppy the run home this last trip - notice the fellow who dashed out of his car because he was unwell.  On rough water runs the suspension of the car makes the ride inside the car awful, and even if it means being cold it is my preference to be outside on these days.  The fellow was okay once he was over being ill and got some fresh air, and we chatted from the observation deck the rest of the rolly-polly trip: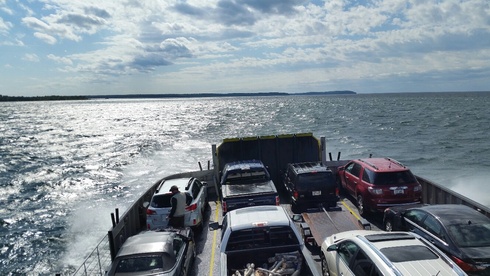 In the past I have dragged either a TenTec Pegasus or Jupiter along for portable operations with success. 
Kudos to the FRS team I can report that the 6300 runs circles around my previous setup.
Will be at the W9DXCC this weekend, so no operations from WI-001L until the 27th, from when I hope to be on the air most Saturdays and part of Sundays until November.
The 6300 has really made this sort of operation a lot of fun.  Being able to hear other stations so well and being heard easily is huge. 
73
Steve K9ZW
Comments
Leave a Comment
Categories
6.5K

Software

8.1K

Radios and Accessories

531

Genius Products

154

Shack Infrastructure

1.5K

Operating Activities