Welcome to the new FlexRadio Community! Please review the new
Community Rules
and other important new Community information on the
Message Board
.
Best Field Day Ever
K6OZY
Member
This Field Day, the Phoenix Thunderbird Amateur Radio Club had an all-Flex 6000 series event. We were 4A with a 6700 and three 6300's. We proved that the superior phase noise of the 6xxx series transmitters makes a HUGE difference on in-band use for contesting. We were able to have a 6700 on CW, a 6300 on PSK31, and a 6300 on phone SSB all on 20M at the same time without interfering with each other! Our antennas were all within 400ft, and we were running 100 Watts. Take a look at this screenshot from my 6700. 
This shows a PSK31 transmission from the 6300 station. It was about 3 wavelengths from the 6700's antenna. The 6700 was a Carolina Windom 80 at 65ft, and the 6300's antenna was a Carolina Windom 40 at 65 ft. There was ZERO increase in the noise floor after the fall-off of the signal +/- 20Khz from the PSK signal. The CW Ops couldn't even feel it! This was INSANE! Everyone at the FD site was amazed that we could all operate in the same band. The 6700's phase noise is rated at -148dBc/Hz and the 6300 is at -140dBc/Hz. This puts them at the top of the pack, and our experiment this weekend proved it. Last year, we had to isolate the radios to separate bands when using various Kenwood and Yaesu radios. Our club now insists on using Flex 6000 radios going forward.
The dual receivers on the 6300 made it quite a bit of fun to receive the W1AW bulletin on two bands at once.  I ran one slice on 20M into DM780 and the other on 17M into FLDigi.  The 17M had a lower signal strength but less fading.   It was a significantly better quality copy on 17M.
I setup the 6300's with dual pan adapters.   The top one had Slice A and was where the operator interacted.  The second one was spectrum only and I resized it for a band scope.
We ran N3FJP Field Day software on their own dedicated computers and connected them via SmartCAT to their assigned radio.  I used 42" Samsung TV's on two of the main stations for easy visibility.
The CW guys wanted to handle logging and operating on a single computer, so I set it up on a 21:9 ultra wide LG 34UM95.
We had lots of kid involvement too!
We used a Flex 5000 for the free 6M station and snagged over 56 Q's!
22 Operators, 40+ visitors...
 .. including the Mayor of Flagstaff.   It went pretty well!
We ran a VE session and had over 18 passed exams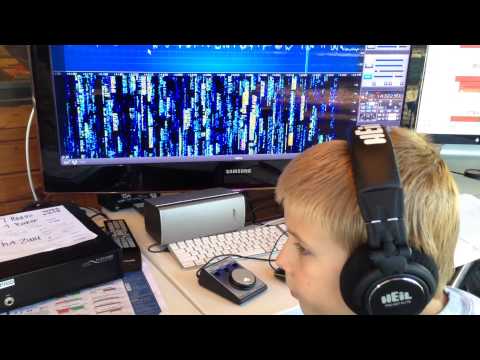 Thank you, FRS, for making this the best Field Day to date!
Leave a Comment
Categories
5.2K

Software

6.9K

Radios and Accessories

122

Power Genius Products

26

Shack Infrastructure

598

Operating Activities