Welcome to the new FlexRadio Community! Please review the new
Community Rules
and other important new Community information on the
Message Board
.
6700 vs Hilberling vs K3 vs K3S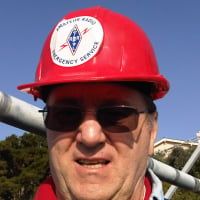 KY6LA_Howard
La Jolla, CA. Paris and Sablet France
Member
✭✭✭
Sitting in Heathrow as am on my way back to the USA just now after ny speaking tour at Friedrichshafen and the Czech Republic. I spent last week in the Czech Republic setting up SDRs, giving talks, visiting contest stations and drinking a heck of a lot of Suoerb ****. The Czech were rather marvelous hosts who could do nough for both myself and fellow traveller Ben N6MUF. Pavel OK1MY has a $18k Hilberling, 3 K-3's, IC-7800 and now a 6700 we ran a lot of ABC tests. Pavel has a 150' tower with 3 stacked full sized MonstIR We also ran Stu's K6TU Alpha IPad App vs the Hilberling. Here is a shot I took yesterday afternoon
.
The Hilberling is on the left, the 6700 obviously in the foreground, the k3's are under the monitors and the 7800 is behind the monitor He has several 4KW and an 8KW amp Like me, we never turned on the 7800. It has been totally surpassed by every other radio in the shack. But we did test the HILBERLING vs K3S vs 6700 on ABCD switches. The K3 without the upgrade board was not competitive. With the upgrade it was very competitive with the Hilberling. On SSB all 3 were very close on strong signals but the Flex won easily on extremely weak signals as it could pull stuff out of the noise that the other 2 could barely do. On CW,,,,absolutely NO Contest. The 6700 won hands down because it had such excellent brick wall filters. BTW these are Pavels comments not mine. Stu's ipad app alpha blew everyone away while we sat out in the patio working DX. The results were strictly aural but Pavel will be doing detailed measurements in the near future. Pavel is a very happy camper with his new 6700
Comments
Leave a Comment
Categories
5.4K

Software

7.1K

Radios and Accessories

164

Power Genius Products

45

Shack Infrastructure

783

Operating Activities